Festoon Lighting Solutions In Nunawading
Festoon Light Hire Nunawading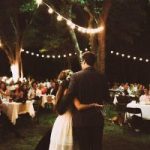 Festoon Lighting Melbourne provides lights for hire throughout Nunawading and the City of Whitehorse all year round. Our light systems are used every weekend for all types of weekend gatherings from weddings and birthdays to music festivals and local fetes. We offer a dry-hire festoon rental service, customers pick up and drop off equipment from our Melbourne based factory for a 4-day rental period. Using the dry hire method customers can setup the LED outdoor system on their own using our easy to follow instructions, all of the decorative equipment is completely DIY friendly and takes very little time to erect. All of the equipment we supply is completely waterproof and shatterproof, which makes the system safe for outdoor string lights suitable wet weather conditions.
If you are looking for a hands-off approach to illuminate your celebration, the team here at Festoon Lighting Melbourne will be happy to provide installation and pack down services. Our specialist team will set up the string lights before everything begins and return again the following day to pack everything up. We cater every kind of event, in the past, our most frequented events have included weddings, parties, corporate, school fetes and local pop-up events. 
Permanent String Light Installation Nunawading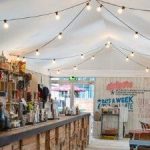 Want to brighten up your Nunawading home or business permanently with festoon lighting? Work with our experienced installation team who have prior experience in the City of Whitehorse,  working in a number of local backyards, bars, and cafes to provide a one of a kind lighting experience. The festoon and fairy lights that we use are all commercial grade quality, built to withstand wet weather conditions and even come with shatterproof LED bulbs, making them safe for all installation locations whether it be indoors, outdoors, private or even public property or events.
LED Outdoor Lighting Suppliers
Looking to buy your own LED festoon lights? Many of our past customers come back to us requesting to purchase our unique outdoor lighting system, we now supply commercial grade outdoor festoon lights right around Australia. The string lighting products that we sell have been made to Australian standards making them safe for indoors or outdoors use. Our products are being used around the country in many homes and businesses to illuminate all types of areas.
Some of our main product features can be found below.
Completely waterproof system – rated at IP44 for permanent outdoor applications
Replaceable screw-in globes
Shatterproof LED globes
Safe 24-volt power supply
Dimmable globes
End to end connectable sections
Flat rubber cable double insulated
Low voltage DC FOR SAFETY
For more information on our festoon lighting supplies click here.
Looking for another location?
Check out our other frequently serviced locations here  or give us a call on (03) 8592 4719
Back to home